Put your home to work. A home equity loan or line of credit can help you fund what matters most to you. Let us help you access the buying power that being a homeowner earns you.
You can estimate how much equity you have in your home by subtracting how much you owe from how much your home is worth. Learn more in our blog: Home equity loans are for more than just home improvement.
Which loan is the perfect fit for your journey?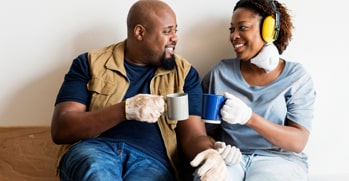 Home Equity Loan
Use the equity you've built up in your home to send your kids to college, pay off credit card debt, finance a home improvement project or whatever else you can think of!
---
No annual fee
Low, competitive fixed interest rate
Fixed payments
Receive funds in one lump sum
Interest may be tax deductible
Home Equity Line of Credit (HELOC)
A line of credit that makes getting the funds you need easy. Transfer funds in Online Branch, give us a call or stop by any branch.
---
No annual fee
Low, competitive fixed or variable interest rate
Payments may change, depending on money withdrawn and if the rate is adjustable
Receive funds in one lump sum OR access funds as needed
Minimum $500 advance
Interest may be tax deductible
Paying Off a Home Equity Loan or Line of Credit

Consolidating Debt with Home Equity

Home Equity Loan or Line of Credit?

Using Home Equity for a Major Purchase

Calculate a Home Equity Line of Credit Payment

Calculate a Home Equity Loan Payment

The Equity in Your Home